Live Action Kim Possible Review
Disney Channel's Kim Possible is now available on DVD and Digital.

Kim Possible is just your basic average girl but she was here to save the world in the animated series that ran on the Disney Channel from 2002 – 2007. Now after more than 10 years, she has returned in her very first live-action DCOM (Disney Channel Original Movie). Disney Studios seems to be on a kick with live action recreations and Disney Channel is no exception.

I have loved watching all of the Disney Channel Original Movies since I was a kid, so naturally, I was excited to see this movie. I watched the live action Kim Possible movie the night that it aired on Disney Channel and honestly I was very entertained for the entire 86 minute runtime of the movie.

The movie is based on the line "high school makes saving the world look easy." On top of trying to battle the diabolical Dr. Drakken, Kim must face her most difficult challenge yet, high school. Just like any typical movie things are a little over dramatized. I know some kids can be ruthless but high school is really not as bad as this and other movies make it seem. Overall I thought the story was entertaining but it was very predictable. I always love to see a good twist but this plot was as predictable as a Hallmark movie.

The acting was good especially for a cast made up of mostly youth. I must say though that the special effects and acting were very cheesy and overdramatized. Honestly, that is kind of to be expected in a Disney Channel Original Movie and part of the reason I enjoyed them when I was little and still do. If anything you will have a good laugh especially during most of the fight scenes.

I really thought the casting was perfect for all of the characters. There was even a super fun cameo appearance from Christy Carlson Romano. Christy was the original voice of Kim Possible when it aired on the Disney Channel. Being an avid fan of the series "How I met your mother" it was great to see Alyson Hannigan play the role of Kim's mother. Patton Oswald also has a quick role as one of the villains at the beginning of the show.

Ron Stoppable played by Sean Glambrone was by far my favorite character. Ron is Kim's best friend and sidekick when saving the world. Ron is kind of a goober whose clumsy mistakes always seem to work out for the best. The thing I love about Ron though is his positive attitude and he always knows what to say to make us smile or laugh. I think we can all learn a thing or two from Ron about finding the positive and good of any situation. There is way too much sadness and darkness in the world so let's all try to remember and focus on the happiness this life has to offer.

Overall I enjoyed the movie and would recommend seeing it at least once. It is a movie that can be enjoyed as a family. I had it on the other morning and even my 18-month-old boy was very entertained and interested in the movie.

The DVD special features contain audition tapes of Sadie Stanley (Kim Possible), Sean Glambrone (Ron Stoppable) and Issac Ryan Brown (Wade). I always enjoy watching these audition tapes because it reminds me that these actors are real-life people too who make mistakes. That being said they are all extremely talented at what they do and were chosen to play these roles because of that.

The DVD also includes a blooper reel because who doesn't love to laugh at other people's mistakes. The bonus features include a special Q&A with Sadie Stanley (Kim Possible) and Sean Giambrone (Ron Stoppable).

If you are looking for more Kim Possible related fun check out these activities below.
Kim Possible Pendant Necklace DIY

Save the world like Kim Possible in a cool, new Kim Possible Pendant Necklace! Make it yourself while you watch the Live-Action Kim Possible movie on DVD today!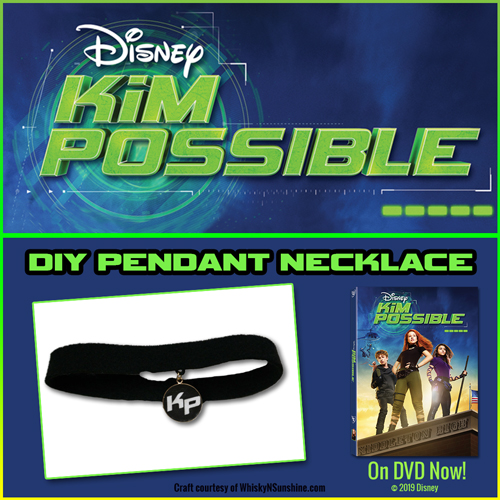 Dr. Drakken's Milkshake Recipe
Looking for something sinister to quench your thirst? Whip up a KIM POSSIBLE treat in the form of Dr. Drakken's Milkshake! Grab the recipe right here and dig in!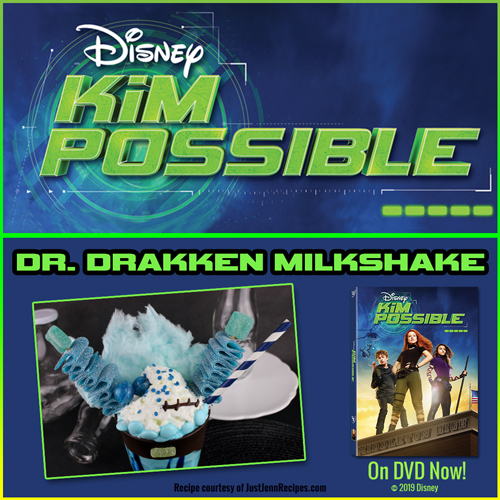 ---