Dad's Review of the Rad Wagon 4 from Rad Power Bikes
This post is sponsored by Rad Power Bikes. They provided me with a Rad Wagon to create this content. However, all thoughts and opinions in this post are my own.
I have been riding my Rad Wagon 4 electric cargo bike for two months and have put over 50 miles on it. In this post, I will be sharing my thoughts and review of the Rad Wagon 4 from a parent's and dad's perspective. Note: I am not a professional biker or bike mechanic so I may not be able to speak to all the technical bike lingo but I can tell you what I love about the Rad Wagon and what makes it a great family bike. I'm just a normal dad who loves to get outside and have fun with my kids. I will talk about everything from assembly, charging, range, and more. But first, off let me just say the Rad Wagon 4 is really is RAD!
What I LOVE about my Rad Wagon
I love being able to have 2 kids ride on the back safely with me(additional accessories required, see my setup section below).
It has motivated me to get outside more with my kids as well as get a workout.
5 levels of pedal assist so I can choose get some help hauling the kids up the hill.
Quick acceleration to help safely cross busier roads.
Thick tires for extra stability and support
Adjustable handlebars(including tilt) and seat to help the bike fit perfectly to you.
Built in headlight and tailight(with brake indicator) for additonal safety and visibility
Amazing Range of 25 – 50 miles of range with pedal assist. Over 25 miles without pedaling(AMAZING right?)
Removable battery for storage and charging
No issue hitting 20 MPH with heavy load (Me at 225lbs, and another 50+lbs of kids on the back) Max Recommended Payload = 350lbs
Lots of accessory options available from Rad Power Bikes including front and rear cargo storage, child seats, rails, even accessories to transport your pets on the back.
Assembly was relatively easy and all tools were included. Professional assembly options also available through Rad Power bikes partners.
Price at $1800 is much less expensive than most of the competion
I feel like a RAD dad taking my kids around the neighborhood!
What I DON'T love about my Rad Wagon
Lack of suspension leads to some discomfort when riding on a surface that isn't smooth.
Standard bike seat is not super comfortable. (Although, is any bike seat really comfy?) You could easily buy a more cushioned bike seat or cover to replace the stock seat if it really bothers you.
The tech nerd side of me wishes there was some sort of bluetooth app connectivy with a mobile phone app so I could get really nerdy and track all of the data.
As you can see from the lists above, I truly do LOVE basically everything about my Rad Wagon. Let's dive into the details about what makes this bike great.
Rad Wagon 4 Bike Specs
Bike Weight: 76.7 lb (34.8 kg) *This includes the battery weighing in at 7.7lbs
Bike Length: 78.7 in
Adjustable Seat Height: 27″ – 37″ *Measured from bottom of the pedal stroke
Recommended Rider Height: 5′ 1″ – 6′ 4″
Payload Capacity: 350 lb (158 kg)
Rear Rack Capacity: 120 lb (54 kg)
Max Speed: 20 MPH
Range: Up to 45+ Miles per charge
Battery: 48V, 14 Ah (672 Wh) – Battery Weighs 7.7lbs (Battery is lockable and removable)
Motor: 750W Brushless Geared Hub Motor
Throttle: Right Grip Twist Throttle
Brakes: Tektro Aries 180 mm Disk Brakes
Lights: 200-lumen front headlight & 15-lumen rear tail light with the brake indicator
Display: LCD Display mounted at the center of the handlebar displays: Battery Life, Odometer with Trip Mode, Wattmeter, Speedometer, Pedal Assist Level. *Display also has USB Charging port(5V 1 Amp)
Price: $1899
Safety
As a dad, the most important thing every time I go riding with my kids is SAFETY! There is nothing that can prevent all accidents and injuries so make sure you and your children are wearing helmets when riding your Rad Wagon. Yes, you can still be RAD and wear a helmet! I feel completely safe while riding with my kids because the Rad Wagon has several features that contribute to the bike's safety:
LED headlight – This helps me spot opstablces in the road ahead as well as alerts oncoming traffic of my presence. The headlight defaults to on which is great so you never forget to have them on.
Inegrated tailight with brake indicator – To alert vehicles behind me of my position as well as if I am braking to slow down.
Wide tires – Better center of gravity and stability while transporting both kids.
Disk Brakes – Provide efficient and strong braking power even in loose or wet terrain.
Quick acceleration – Accelerating out of situations can be just as important as braking at times when it comes to safely navigating traffic on the road. Of course you could always pedal to speed up, but it is a lot easier to just twist the throttle and quickly cross a busier road at the intersection. Getting a 76lb bike, 50lbs of kids and my heavy 200+ lb self moving from 0 takes a lot of energy. The motor on the Rad Wagon has no issue quickly and safely accelerating that load across the road.
Accesories – Rad Power Bikes offers several child seating and handle options for various situations that attach securely to your Rad Wagon and provide extra safety and comfort to your passengers. I share more about this on the My Rad Wagon Bike Accesories Setup section.
It's just like riding a bike, but way more fun
It took almost no time to get used to the operation and riding of my Rad Wagon. It really is just like riding a bike, except it is WAY MORE FUN!!! The Rad Wagon 4 has a twist throttle on the right handlebar grip just like a motorcycle so you can accelerate quickly up to 20MPH without even pedaling. Although, it's not a crazy fast speed the kids and I both still had a lot of fun doing our range test mentioned below without pedaling. Note: the acceleration will stop once you hit 20MPH. I noticed while going downhill 20+ MPH and trying to twist the throttle and no acceleration happened.
Along with the twist-grip throttle, the Rad Wagon has an intelligent 5 level pedal-assist system. You can select the level of pedal-assist using the buttons mounted on the left handlebar. Level 0 means it is just like riding any normal bike so it is all you. This is the level I spend most of my rides on as I am overweight and could use all the exercise I can get. Levels 1-5(5 being the highest) give you an extra boost of energy propelling the bike forward as you pedal. This is especially useful when going up a hill. I found that most of the time I live in the ranges of 0-2 because the area we live in is mostly flat.
Other than the twist throttle and playing around with the pedal-assist levels, riding a Rad Wagon operates just like any other bike you may have ridden before. It has front and rear brakes controlled by levers mounted to the handlebars and you steer with the handlebars. Unless you are one of those cool people that can ride a bike with no hands. I must say I am jealous as I have never been able to do that. I need to work on my balance I guess.
Assembling the Rad Wagon
There was some miscommunication with my order so it ended up getting shipped directly to my house. This ended up being perfect though because the bike arrived on my birthday. Happy Birthday to me!
The bike includes written assembly instructions as well as a link to an instructional video. I chose to follow along with the video and had no issues assembling the bike. The Rad Wagon comes with everything you need to assemble the bike including the tools. Assembling the bike took me about 4 hours. I am sure if you are handier and experienced with bikes you could do it even quicker.
I plan on getting my Rad Wagon 4 serviced by a professional around the 100-mile mark as recommended by Rad Power bikes in the owner's information.
Battery Range on the Rad Wagon 4
The Rad Wagon 4 can take you as far as you need to go because unlike an electric car if you run out of battery you can just use your leg power to pedal your way to your destination. In all seriousness though, let's talk about the battery range on the Rad Wagon 4 including the tests I did. On Rad Power Bike's website, they state that the range on the Rad Wagon 4 is Up to 45+ miles per charge. I wanted to put the range of the Rad Wagon to the test and without any unknown variables like pedaling. I decided to see how far the battery of the Rad Wagon 4 could take me on a single charge without pedaling. Below are the results:
I started with a fully charged battery on my Rad Wagon 4!
Trip 1: 13.2 Miles
Trip 2: 5 Miles
Trip 3: 9 Miles
Total Distance: 27.2 Miles
My Rad Wagon 4 went 27.2 Miles on a single charge without pedaling. Amazing right? I was honestly in shock, towards the end I was thinking to myself, "Is this thing ever going to run out of battery?" Eventually, it did though, and the last bar on the battery started to flash. As the battery on my Rad Wagon neared the end of its charge, acceleration definitely started to slow down and the max speed started dropping.
I also rode my Rad Wagon 11 miles to my inlaws house that is all uphill with pedal assist on mode 2-4 the entire ride and the battery didn't even drop one bar. I am very impressed with the battery range on the Rad Wagon 4 and you could definitely get 45+ miles on a single charge if you are pedaling.
You can buy an additional battery to have on hand and with the cargo space of the Rad Wagon, you could store your spare battery with ease.
Charging your Rad Wagon 4
The Rad Wagon 4 battery comes charged to about 50- 75% charge so I didn't need to wait to test it out. However, after the first ride, Rad Power Bikes recommends that you balance the charge after each of your first 3 rides. This is super easy to do and instructions can be found here. This just helps keep the battery in great condition and perform to its full potential for as long as possible.
Charge Times: Rad Power Bikes suggests that charging can take anywhere from 1-7 hours to fully charge your battery depending on the level of depletion. After my full range test mentioned above, I was able to confirm that it took about 7 hours to fully charge the battery from an almost completely dead battery. Honestly, not bad because 1 I will probably never need to charge from empty to full because of my short riding patterns. However, even if you did need to commute 40+ miles to work it would be able to charge while you were sleeping and while you are working in the office and be waiting for you with a full charge.
Charging the battery is super simple:
Turn off the battery using the key(Note: The battery can be charged when locked(on the bike) or unlocked(removed from the bike).
Remove the rubber cover(meant to protect from dust, dirt and water) from the charging port and insert the charger into the charging port.
Plug the charger into an outlet. Note: that two red lights will illuminate on the charger signaling that the bike is charging.
Charge the bike until ONE(the other will remain red) of the red charging lights turns green.
Unplug the charger and enjoy your next ride!
I LOVE that you can remove the battery and take it wherever to charge. My garage only has one outlet and it is being used by a freezer and fridge we have out there. This leaves me with nowhere to plug in my bike. Luckily though it is super easy to just pop off the battery of my Rad Wagon and charge it on any of the many outlets we have inside our house. Another use case would be if you need to charge on the go, although with the long-range you may not need to. If you needed to charge between your commute to and from work, you could easily take the battery off when you arrive to work and throw it on the charger by your desk and it will be fully charged and ready for your commute home.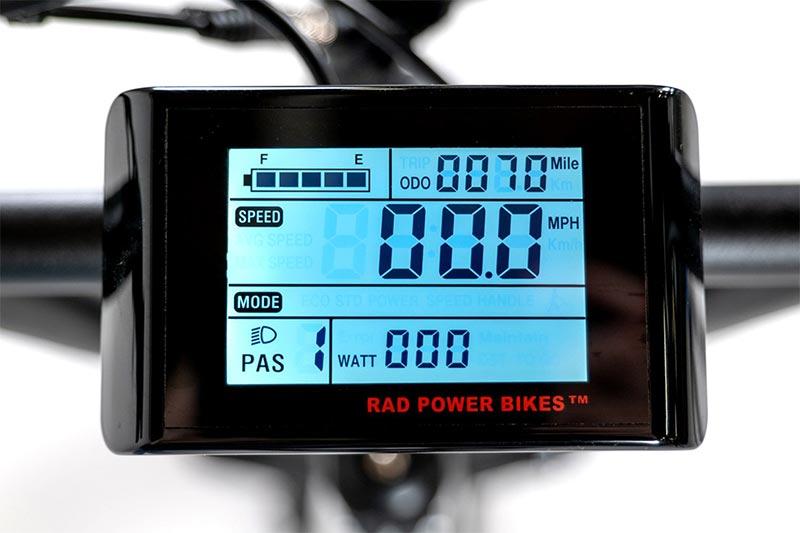 Let's Talk About the Display
The Rad Wagon 4 has a great LCD display mounted to the center of the handlebars. I have had zero issues reading the display while riding in the bright sunlight during the day. The display also has a USB port(5V, 1Amp) to charge a smartphone or other small electronic device.
Here are the stats you can see on the Rad Wagon 4's LCD display:
Battery Life – Last bar will start flashing when battery is about to die.
Pedal Assist Level – The higher the number, the more the motor will boost you when you pedal.
Odometer: Shows the total miles traveled on the bike. Trip Mode also available. I've noticed this seems to reset everytime the bike is turned off.
Speedometer – Can be set to current speed, max speed, or average speed.
Wattmeter – Shows how much power the motor is outputting at any given time.
I am a big tech nerd so I would love to have seen more tech in a display as well as maybe Bluetooth connectivity to my smartphone. However, none of that is necessary for the purpose this bike serves.
My Rad Wagon 4 Accessory Setup
Above is a picture of how my Rad Wagon 4 is set up with accessories. Here is a list of all the accessories I have:
Thule Yepp Maxi Child Seat(Blue) – The ultimate child bike seat for maximum safety. It was super easy to mount and feels so secure. Designed and tested for children from 9 months to 6 years old, and up to 40lbs.($249.95)
Caboose – This creates a frame around both my children and gives them something to hold onto on the front and sides. ($199)
Hyban Helmet 2.0 – Rad Power Bikes sent me this helmet with my Rad Wagon and I honestly love it! One of the most comfortable and sturdy feeling helmets I have ever worn. It also has an LED tail light for added safety. ($79)
My two-year-old daughter sits in the Thule Yepp Maxi
I also have a little kids backpack I have strapped to the back where I store things like keys, cell phone, portable tire pump, and the tools that came with the bike. I would love to get a front basket or something eventually to haul water and snacks for me and the kids when we go on longer rides. Another accessory I would like to get is the deckpad which is a cushioned seat for the passenger. This would go where my 4-year-old son sits.
The video below from Rad Power Bikes shows just a few of the possibilities when it comes to adding accessories to your Rad Wagon 4 to make it the perfect bike for your family's needs. Whether you need to haul a bunch of kids or haul a load of groceries, Rad Power Bikes has what you need.
In conclusion, I LOVE my Rad Wagon! I have always loved biking but having a Rad Power Bikes makes it even more fun! For anyone looking for a highly versatile e-bike I would highly recommend the Rad Wagon.
---
---